Custom Sizing Solid Hardwood Floating Shelves at the click of a Button
Taking orders now for manufacturing 4th to 10th Dec
Limited space, order now to secure your manufacturing slot.
Once you have a manufacturing slot, turn around time is 1-2 weeks from your manufacturing slot.
Welcome to Timber & Light
New Zealand's only place to buy solid timber floating shelves that perfectly fit your space, at the click of a button. We connect the customer to the furniture maker and provide predominantly American Ash, American Oak and Rimu solid timber floating shelves (can supply other timbers on request) to the nearest mm.
Every shelf is beautifully hand-crafted in our Auckland workshop and is supplied with all required mounting hardware. A finish of your choice will need to be added to your order unless you desire your shelf natural for you to apply your desired finish.
Our Purpose
We created Timber and Light for two reasons, first, our love for minimalistic, handcrafted, real timber furniture and home decor and second from our frustration of not being able to easily buy custom sizing at the click of a button. Your home is as unique as you are, so why buy something that doesn't perfectly fit your space. We also supply custom furniture like Boardroom tables or Console table on request.
Corner Shelves
If you are wanting two shelves to join in a corner, just add a 'corner support' to your cart. You can find this option in the 'extras' category or just clink on the link below.
Corner Supports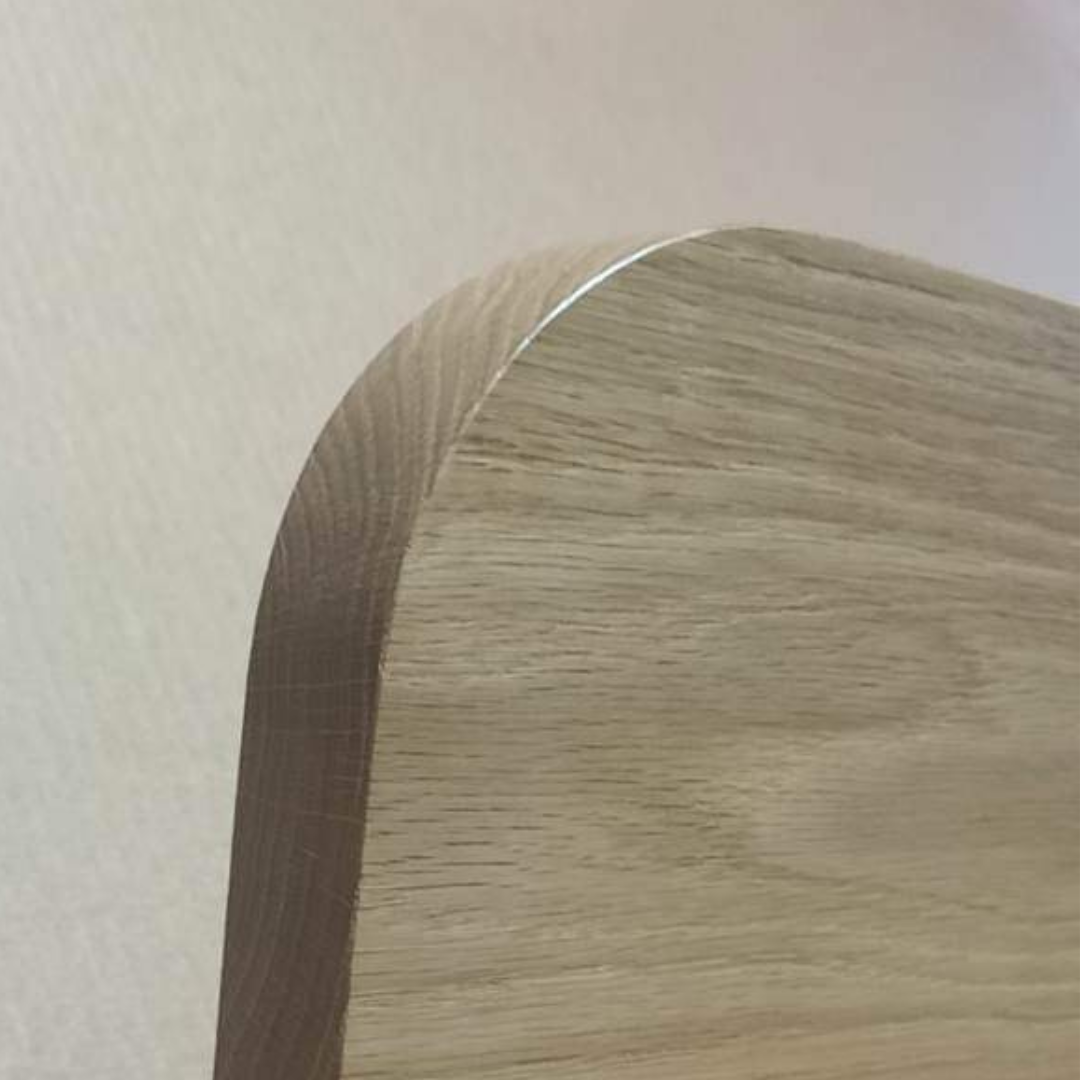 How do you like your corners?
All our shelves come standard with 90 degree corners. If you would prefer radius corners please just select this option via the 'extras' section. Corners are $75 per corner (so you would need to add x2 for one shelf).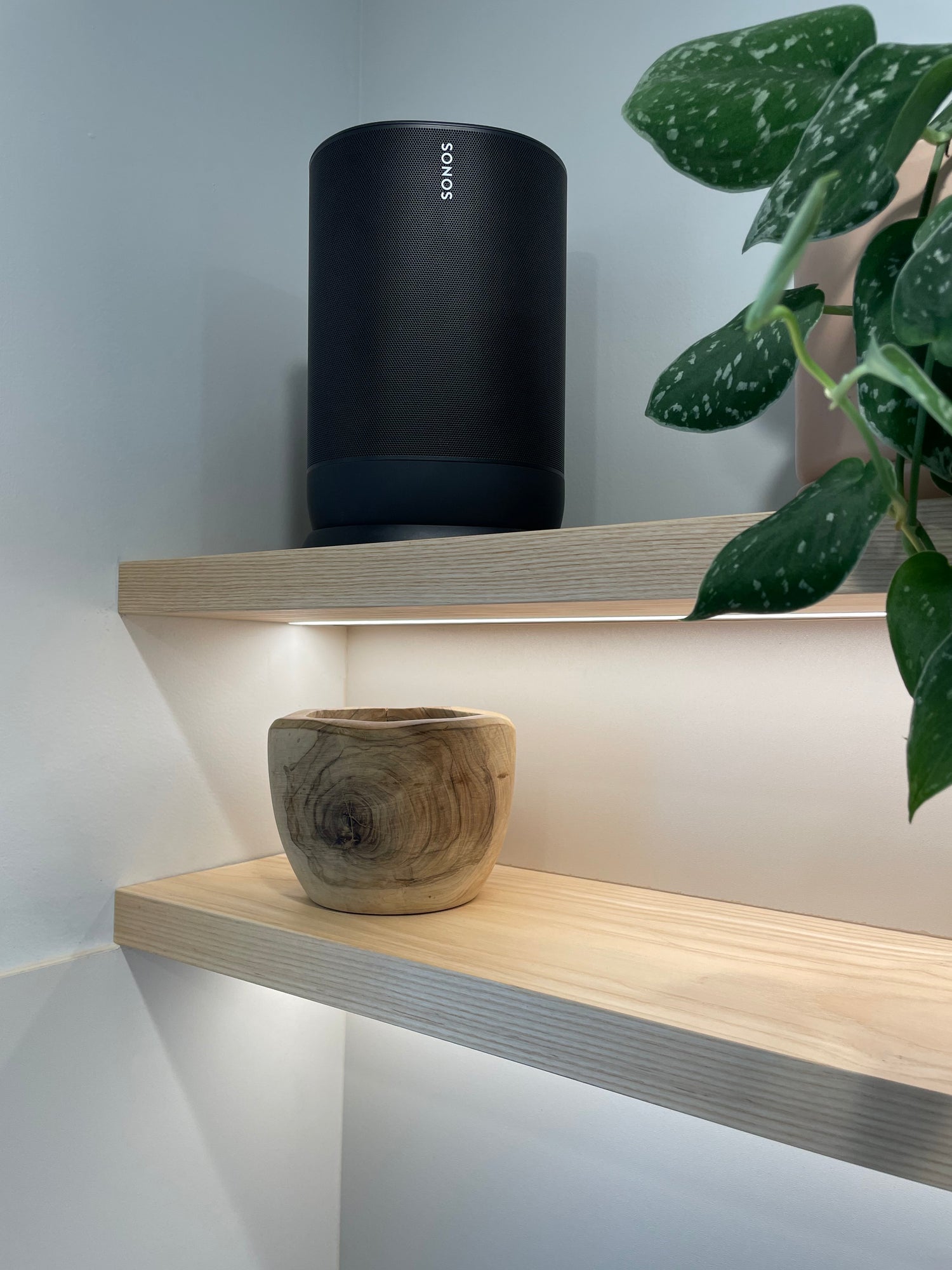 A route for an LED strip light can be added to cart for $75 per meter. Find option in 'Extras' and add required quantity to cart to match your shelf length
FAQ's
Q. Does Timber and Light hold stock?
A. As 95% of our orders are custom sizes, we decided to not carry stock and rather complete a production run once per week.
Q. What finish will my solid timber shelf come have?
A. Unless you add a stain colour or clear finish to your cart, your shelf will come natural.
Q. What is the shipping time frame?
A. All orders received will be manufactured sometime between Monday to Thursday the following week and dispatch will be completed Friday or the following Monday.
Q. What sizing can you make?
A. Depth - The Slimline Range is 28mm thick and depth can range from 110mm to 170mm deep and the Standard Range is 35mm thick and depth can range from 110mm to 300mm. Length - With the Slimline Range we can make any length from 100mm to 3000mm and the Standard Range can be from 315mm to 3000mm.
Q. Where are you located and do you have a store?
A. To enable us to offer you solid timber floating shelves at these low prices we have a very lean business model and therefore we do not have a physical store. We design and manufacture the floating shelves in Auckland and the alloy brackets are manufactured in Dunedin. Keeping it kiwi!
Q. What is the best way to contact T&L?
A. We have made it as easy as we possibly can to contact us. You can email T&L by sales@timberandlight.co.nz, we have social presence on Instagram and Facebook and our website www.timberandlight.co.nz has an instant chat function courtesy of FaceBook Messenger, and we will reply in a timely matter most hours of the day.
Q. Do you supply all the required mounting gear?
A. For the Standard range, we will supply the wall mounting alloy bracket and two wood screws for attaching to studs. If you need 'gib-only' screws also, you will need to add these to cart from the Accessories section. For the Slimline range, we supply two wood screws/pins for stud/framework attachments. If you need 'gib-only pins' also, you will need to add these to cart from the 'Extras' section.
Q. Where do you ship?
A. Anywhere in New Zealand. Currently we do not offer international delivery due to the weight of our shelving and therefore the cost associated with shipping these internationally.
Q. My shelf has some fine cracks on the end, is that ok?
A. Due to how natural timber expands and contracts with temperature and varying moisture content, fine cracks can form in the end grain, but don't worry these cracks will not keep growing and this is just part of the natural properties of cut timber.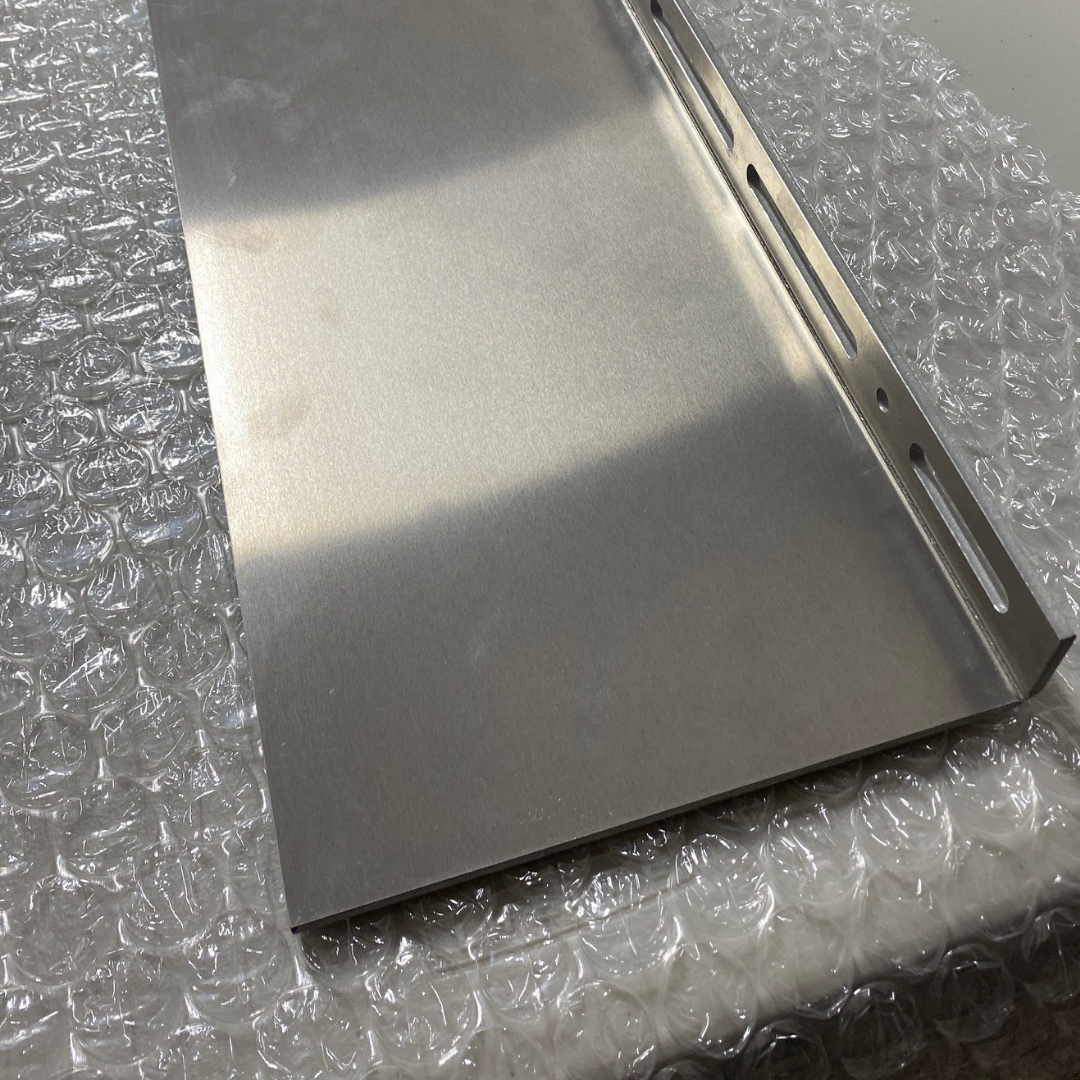 Alloy Heat Protector
For when you are wanting to mount your floating shelf above a heat source.
See Product